Prize Recipients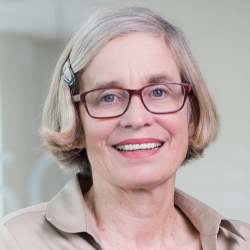 University of Washington School of Medicine /Seattle Children's Research Institute
Bonnie Ramsey MD is Professor and Vice Chair for Research in the Department of Pediatrics and holds the Endowed Chair in Cystic Fibrosis at the University of Washington School of Medicine. She is also the Director of the Center for Clinical and Translational Research (CCTR) at Seattle Children's Research Institute and is the co-PI of the University of Washington Institute of Translational Health Sciences (ITHS) supported by the NCATS Clinical Translational Science Award (CTSA). She is an elected member of the National Academy of Medicine
Dr. Ramsey received her BA from Stanford University in 1972 and her MD from Harvard Medical School in 1976. After pediatric residency training at Boston Children's Hospital, she moved Seattle Children's in 1978 first as a resident and fellow and then became an attending physician in 1980. Her career has focused on clinical care and research in the field of Cystic Fibrosis (CF). She is internationally recognized for her work in developing new therapies for patients with CF. She is also interested in the ethics of pediatric clinical research and has served on two Institute of Medicine committees focused on this topic.
Her primary research interest has been better understanding Pseudomonas aeruginosa (Pa) infections in the CF airway in order to develop better therapies. Over the past 2 decades she has led a large natural history of early Pa infection in young children with CF, the Early Pa Infection Control(EPIC) study, creating one of the world's largest data and microbiological specimen collection in this population. Since the 1990's, she has studied the role of inhaled antibiotics in treatment of Pa infections including the development of inhaled tobramycin ( TOBI®) initially for patients with established infections and more recently for eradication of early infections.
For nearly the past two decades, Bonnie directed the Coordinating Center for the Cystic Fibrosis Foundation Therapeutics (CFFT) Development Network (TDN), a national clinical trials network that has successfully conducted therapeutic trials assisting in the development of novel treatments for patients with this disorder. Several of the drugs have reached FDA approval, significantly impacting the lives of patients with CF. She now serves as a Senior Consultant to the TDN.
I was shocked and humbled that I would be considered for this prestigious award with four outstanding scientists, Francis Collins, Lap-Chee Tsui, Michael Welsh and Paul Negulescu. The Alpert Award is very meaningful to me, especially as an alumna of Harvard Medical School. Receiving the award recognizes the scientific and therapeutic revolution that has occurred over the past three decades in the field of cystic fibrosis. The award also acknowledges the importance of team science spanning from basic to clinical investigation that is required to translate our understanding of molecular biology into life-changing new therapies. I am honored to receive this award.