Prize Recipients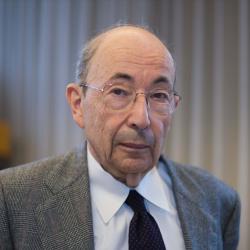 In recognition of the development of methodologies for the expansion and differentiation of human keratinocyte stem cells for permanent skin restoration in victims of extensive burns.
Dr. Howard Green was the first to cultivate human cells in the laboratory for the purpose of treating patients. Burn victims around the world benefit from his method of growing epidermal cells to generate skin grafts.
Dr. Green, the George Higginson Professor of Cell Biology at Harvard Medical School (HMS), began his independent scientific work at New York University School of Medicine in the 1960s, when he developed the cell line called 3T3. It was in the 1970s, while at Massachusetts Institute of Technology (MIT), that Dr. Green and Dr. James Rheinwald discovered that they could grow skin stem cells by cultivating them with 3T3 cells that had been killed with radiation. Dr. Green then collaborated with Dr. Nicholas O'Connor at the Peter Bent Brigham Hospital to graft a burn victim with cultures of the patient's own cells. The cultures were prepared by Dr. Green at MIT. Later at HMS, Dr. Green expanded the scope of the method and showed that it was life saving for patients with deep burns over a large portion of their body surface. These patients were treated at the Boston Shriners' Burn Hospital for Children. Cultured epidermal cells for the treatment of burns are now available through the Boston-based company Genzyme, the Japanese company J-TEC and the Korean company Tego Science. It was later realized by others that cartilage cells could also be grown in culture and used therapeutically.
Dr. Green was chairman of the Department of Cell Biology at New York University School of Medicine from 1968 to 1970 and chairman of the Department of Cellular and Molecular Physiology (now the Department of Cell Biology) at HMS from 1980 to 1993. His many prizes include the Blaise Pascal Medal for Biology and Life Sciences of the European Academy of Sciences.