Prize Recipients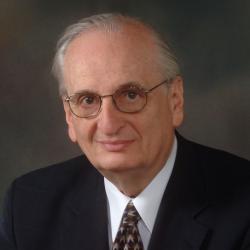 Harvard Medical School and Children's Hospital, Boston
For discovering tumor angiogenesis, and for pioneering work in the development of antiangiogenic therapies for cancer.
Professor Judah Folkman is the founder of the field of angiogenesis research. He made and led the seminal discoveries underlying the mechanism of angiogenesis - the growth of blood capillaries - which opened a field of investigation now pursued by thousands of laboratories worldwide. Dr. Folkman's 1971 original hypothesis that solid tumors are angiogenesis-dependent initiated studies in tumor biology that extended to disciplines as diverse as ophthalmology, cardiology, dermatology and tissue engineering.
His laboratory was the first to purify angiogenesis regulators, develop all of the assays required to study this process and propose the concept of angiogenesis-dependent diseases. Because of Dr. Folkman's vision, at least 23 different angiogenesis inhibitors have been approved by the FDA for 18 different indications, with 100 different drugs being tested in over 3,000 clinical trials in approximately 43 countries. His vast basic knowledge of angiogenesis, combined with his first-hand experience in clinical medicine, led to numerous breakthroughs in the field of vascular biology and provided the groundwork, and the inspiration, for other laboratories to contribute to this field. His creative vision also extended to other fields and led to the creation of the first implantable heart pacemaker and development of the first sustained-release drug delivery systems.
Dr. Folkman's exceptional achievements have been recognized by innumerable national and international awards. In 1990, he was elected to the National Academy of Sciences and the Institute of Medicine, two of the highest honors bestowed to scientists and physicians in the U.S. He was also a member of the American Academy of Arts and Sciences and the American Philosophical Society, and was appointed by the President of the United States to the National Cancer Advisory Board and the National Institutes of Health. Dr. Folkman's other awards include the Gairdner Foundation International Award, the Wolf Prize in Medicine and the Keio Medical Science Prize.
In addition to his illustrious research career, Dr. Folkman was a compassionate surgeon, willing to take calls at all hours to help patients around the world. He was an inspirational teacher and mentor to numerous students, researchers and physicians at Boston Children's Hospital and Harvard Medical School. Dr. Folkman began his career as Instructor in Surgery for Harvard's Surgical Service at Boston City Hospital, was promoted to Professor of Surgery at Harvard Medical School and became the Julia Dyckman Andrus Professor of Pediatric Surgery in 1968. He served as the Surgeon-in-Chief at Children's Hospital Boston from 1967 to 1981. He was the Founding Director of the Vascular Biology Program in the Department of Surgery at Boston Children's Hospital. Dr. Folkman received honorary degrees from 19 universities, an extraordinary number of awards and honors and authored more than 500 scientific publications.
His pioneering work and his role as a dedicated mentor of scientists and clinicians worldwide continue to be celebrated. Well known for his persistence in the face of adversity, a strength that fueled his boundless intellectual enthusiasm, innate curiosity, optimism and intense drive. In his lifetime, Judah Folkman touched so many so deeply. His passion and vision lives on in all of those whom he has inspired.