Prize Recipients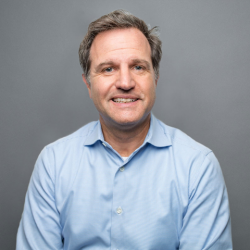 Dr. Negulescu received both his B.S. and Ph.D. from U.C. Berkeley in Physiology and carried out post-doctoral work at U.C. Berkeley and U.C. Irvine in the areas of epithelial biology, biophysics and immunology.

Following post-doctoral work, Paul joined Aurora Biosciences, a San Diego Company whose founders included Roger Tsien, in 1996. Paul joined as one of the first employees and grew with the Company to become Senior Vice President of Discovery Biology. Paul began working on cystic fibrosis while at Aurora and played an important role in establishing the foundation of a more than 20-year journey in CF research and drug discovery.

When Vertex acquired Aurora in 2001, Paul was responsible for integrating Aurora's research into Vertex, including transitioning the CF Program to Vertex. Since 2003, Paul has led the Vertex San Diego research site. During that time the San Diego team has discovered over 10 novel compounds, including the first CFTR modulators to enter clinical development. Three of these compounds, ivacaftor, lumacaftor and tezacaftor are the only approved medicines to treat the underlying cause of cystic fibrosis. Additional compounds are currently in clinical development that could treat up to 90% of people with CF.
This award recognizes the remarkable path from the discovery of the CF gene to the development of therapies that treat the cause of CF. It has been a privilege for me to be part of this journey and I am honored to receive the Alpert Award with such accomplished scientists and physicians as Drs. Collins, Tsui, Welsh and Ramsey. I am also humbled and grateful to represent the amazing team that discovered and brought these medicines to patients. This award is meaningful for all of us because it acknowledges that our work over the past 20 years has had a positive impact on people with CF and their families.