Warren Alpert Foundation
Warren Alpert, (1920-2007), was a successful philanthropist and entrepreneur. He was the founder of Warren Equities, which Forbes Magazine lists as one of the top 500 privately owned companies. Mr. Alpert has been a generous philanthropist having established the Warren Alpert Foundation which supports innovative individuals and organizations dedicated to understanding and curing disease through groundbreaking research, scholarship and service.
Harvard Medical School
Since 1987, in partnership with Harvard Medical School, the Warren Alpert Foundation has awarded the Warren Alpert Foundation Prize to many of the world's foremost physician-scientists and researchers. The Warren Alpert Foundation Prize Scientific Advisory Commitee, comprised of internationally renowned biomedical scientists and chaired by Jeffrey S. Flier, MD, the dean of Harvard Medical School, selects the prize recipients. Each fall Harvard Medical School hosts a scientific symposium in honor of the recipients of the prize.
About Warren Alpert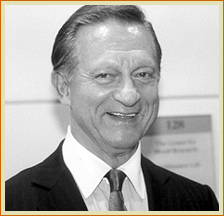 Warren Alpert, founder and chairman of Warren Equities, Inc., and The Warren Alpert Foundation, was born in Chelsea, Massachusetts in 1920. The son of Lithuanian immigrants, he was the youngest of Tena and Goodman Alpert's five children.
Mr. Alpert earned a bachelor of science degree from Boston University in 1942. He then served in military intelligence during World War II, and was awarded the Purple Heart in 1945. Following his military service, he completed the Harvard Business School Advanced Management Program. Then, in 1947, with help from the GI Bill he received his master's degree in business administration from Harvard Business School.
He started his own business in 1950 with, as he told it, "$1,000 and a used car." At the time of his passing in March 2007, he was the sole owner of Warren Equities, Inc. Forbes magazine annually lists Warren Equities, Inc. as one of the nation's top 500 privately owned companies. Warren Equities, Inc. markets petroleum and food items, posting in excess of one billion dollars per year in sales. The company also engages in transportation and real estate, employing more than 2,100 people in eleven states.
Mr. Alpert's academic affiliations and contributions were significant. He was a founding donor of Harvard Medical School's "New Pathway" program with a $500,000 contribution. He also donated $20 million to Harvard in 1993 to name the new research center at the Medical School. In 1998, he donated $1 million to Harvard's Tosteson Medical Education Center. In 1999, Mr. Alpert donated $15 million to Mount Sinai Hospital to name the Warren Alpert Pavilion, dedicated for pediatrics and radiology.
In January 2007 Mr. Alpert made his final philanthropic donation of $100 million to the medical school at Brown University. The donation ensures a strong future for The Warren Alpert Medical School by providing funding for a new building as well as scholarships, biomedical research and the recruitment and retention of faculty.
Mr. Alpert passed away in New York City on March 3, 2007. Without a doubt his legacy of generous donations to the medical community will be felt for many years to come.
Other Warren Alpert Foundation and Warren Equities Corporate Donations
Fellowship in the name of Bernard Fields at the Harvard Medical
School
Major funding at the Chelsea Jewish Nursing Home
The Victor Cohn Prize of Science Journalism
$100,000 donation to the University of Maryland Foundation
Two scholarships at the Diocese of Providence schools
Scholarship at Community Prep School
Scholarship at the Alperin Schechter Day School
In addition, the employees of the Warren Equities, Inc. subsidiary "Xtra Mart" convenience stores have raised and contributed the principal funding for The Jennifer Creed Fund at the Boston Floating Hospital. The proceeds are used to assist financing for families of children suffering from cancer.

The Warren Alpert Foundation does not solicit funds. It is a private, philanthropic effort funded solely by The Warren Alpert Estate.
Staff
For questions regarding nominations and symposium:
Edward Canton
edward_canton@hms.harvard.edu
617-432-2116